This remains one of the worst starts to the year for investors ever, as nearly every asset class is delivering negative returns Year To Date:
US Gov't Bonds:

-11.2%

US Corporate Bonds:

-13.9%

S&P 500:

-16.8%

NASDAQ:

-26.6%

Bitcoin:

-34.1%
I am sure people around us are concerned and fearful, therein lies the opportunity to be greedy…
Few partners have approached me stating "Portfolio is down big time." Just looking at any of our portfolios daily/weekly won't help us irrespective of whoever is in charge of it.
Let me stick to the Founder's Portfolio since I am the pilot of this aircraft and responsible for navigating this period of heightened turbulence towards a more joyous path of compounding.
As I write this letter on my journey back to Dubai from Chicago, the flight is facing some turbulence. Who likes it, at least I don't… Similarly many of you have shared with me your observations that the portfolio is down. Believe me it takes courage to write this letter when the flight is shaking, but do I have an option? God saves me.
Those of you unaware, I have been in the US for the past 2 weeks. I had the chance to visit some of our portfolio companies to gain better insight about the value proposition they have to offer, attend the Berkshire Hathaway Annual conference in Omaha, and scout potential investee companies for Founders Portfolio.
We (me, my kids and my team) are the biggest stakeholders in your success and it is we who bear the maximum brunt when your wealth is not being made . We are also convinced that this is by no means the end of the world and will prove ephemeral soon enough.
Right from the very beginning, we have reinforced innumerable times the fact that the product is for a minimum of 5 years and it's the nature of equity investment to go down significantly. Hope you remember our concept sharing presentation which we took you through at our initial meeting. Just write to us if you want us to revisit the same or subscribe to our YouTube channel to watch the video on your own time.
In hindsight, we all want to be a smart investor: catching the bottom or not losing money. When Warren Buffet was asked about bottom fishing at the recently concluded conference, he openly admitted about how he has tried to time the market on many occasions only to fail every time. In fact he went a step further to admit about losing money to demonstrate the futility of the exercise.
On a side note, Berkshire Hathaway has been on a buying spree in Q1 of 2022 investing as much as $40 BN and they have not been deterred by the fact that the markets have tumbled even further post their investments.
Let's understand what's happening in the market. Interest rates are going up, Fed just increased overnight fed fund rate by 0.50% which will end up making the loan costlier and equities valuation dearer since interest rates act as gravity. Higher risk free rate correlates to it and all assets have to attract investors with higher return to compensate against the same.
Now whatever the reason for interest rate to go up weather it is Russia invading Ukraine in an unending power tussle against the west or China playing the godman and locking its own people with its god damn zero covid policy & delaying the shipment or Fed getting late in controlling the consumer inflation or Opec not increasing the oil output significantly we are the ones who are losing.
What's the best way of beating against above odds :
Warren Buffett answered in Omaha: ' Do what you are best at and inflation won't impact you."
My team and I are best at identifying businesses which can increase prices for their products to beat the inflation and defend their moat against the price rise and thus make us money when consumer inflation peaks. We will still go wrong in some of our stock picks. There is nothing new here to add.
Reading many fund letters and listening to legendary traders like William Larry I see that we are nearing consumer inflation peak and stocks tend to do well when we are coming down the cliff.
Below chart is just an evidence of previous cycles of consumer inflation and stock returns from there.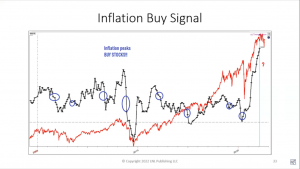 I won't ask you to fund the Founder's Portfolio but I want you to think of this:
"If you will get your favourite inventory (in the business) or branded fashionable item at a 20% discount won't you consider buying more" if your answer is yes then you would definitely buy now.
"The best time to buy the stock is when your mind makes you feel the worst." Remember it is the same as buying insurance when you don't need one…
Let's not deviate from our long term vision of compounding wealth 10 to 20 times in the next 10 to 15 years. Have faith and remember this date. 1 to 2 years from now all I am going to tell you is "I told you…"
In the end let me surprise you that in March 2020 we were down by 18% and we ended up making approximately 36% net returns to you in 2020.
I don't know whether history will repeat it in 2022 but by 2023 this looks probable. Also let's not discount the nuclear war. We should still remain invested. 
I leave you with a question: "Who are the people who made maximum wealth in the stock markets over the long term ?" If you have read through so far, you are definitely going to reach out to me to share your answer.
Thank you for your precious time in reading this note, success is 99% decision making. Good or bad only time will tell.
I must say I am lucky to have you since you never called me to sell your portfolio while losing money. It will make the partnership perfect when you'll call us to top up/ invest more at this level and make my purpose worthy of being in the equity business. Ignore me if you've already invested and topped up your portfolio. Remain seated fastening your seat belt while the turbulence will pass.
Let us know your thoughts. These are the times we want to hear from you and I hope my flight lands safely & the turbulence within me ends.
Yours truly,
Bhuvan J. Gupta
Thank you for reading.